Synopsis
We evolved during the most volatile era since the extinction
of the dinosaurs. Like the many other kinds of human who once shared our world, Homo sapiens should have died away. Instead, our species survived to populate every corner of the planet.
How did we do it? How did humans overcome near extinction in an African super-drought? How did we find a doorway through the Sahara and out of Africa? What happened when we met the Neanderthals? And how did humans master the Arctic … and cross the oceans?
"The scientific equivalent of a creation story for humankind."
Breakthroughs in genetics, climate research and archeology are redrawing our knowledge of human origins at breathtaking speed. Dr. Niobe Thompson takes the audience inside groundbreaking scientific research to reveal dimensions of the human journey we once thought impossible. In a series of expeditions to some of the world's most remote cultures, including the world's last free-diving sea nomads, the Crocodile People of Papua New Guinea, Bushmen of the Kalahari, and reindeer herders of the Russian Artic, Dr. Thompson gives us a never-before-seen window on our species' past.
In the process, we discover the fragility of human life and the miracle of our adaptable, imaginative, and curious nature.
Filmed over 18 months across 5 continents in 4K resolution, featuring drone and helicopter-mounted RED aerials, extensive underwater and Phantom slow-motion footage, and a live-recorded symphonic score. A true cinematic odyssey described by Canada's press as "spectacular", "stunning", "dazzling", "gorgeous" and a "fascinating and engagingly accessible exploration of human evolution."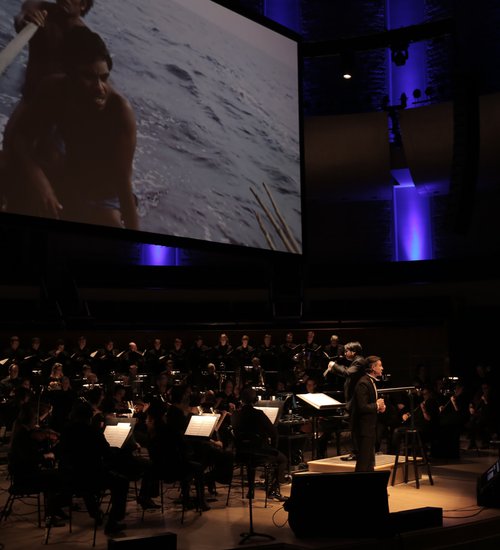 In Concert
Host Niobe Thompson presents a special live version of The Great Human Odyssey with composer Darren Fung and select symphony orchestras.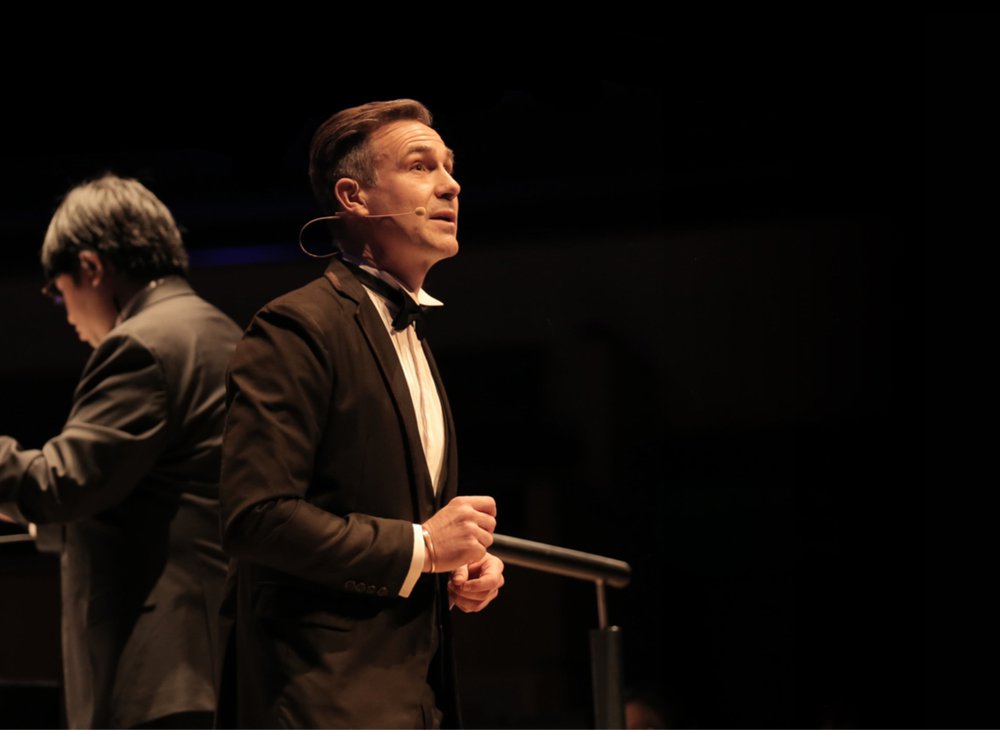 Don't Take Our Word For It
"This beautifully shot three-part documentary series takes us back to the beginnings of the human race. Anthropologist Niobe Thompson looks at why Homo sapiens were the only species of "intelligent walking ape" to survive a hostile African environment that pushed them to the brink of extinction."

"A stunning documentary… shot over 18 months, they used cutting edge techniques to capture gorgeous footage of real-life reindeer herders, African Bushmen and other remote tribes."

Laura Hienbuch CBC Connects

"Spectacular sequences… stunning visuals"

Marsha Lederman Globe & Mail

"A fascinating and engagingly accessible exploration of human evolution … Thompson does an excellent job of creating a conceptual bridge connecting the present-day society he's observing with the earliest humans. It's an awe-inspiring exploration of human development."

Brad Oswald Winnipeg Free Press

"Canada's answer to David Attenborough … It's a spectacular-looking film."

Aaron Hutchins Macleans Magazine

"Thompson's energetic narration can't help but keep you interested as he traces mankind's origins back to Africa and the cradle of life…[his] adventures are stunning to witness, a riot of colour, action and education."

"The visual backdrop of Thompson's odyssey is gorgeous flowing footage, shots of real-life Bushmen and reindeer herders, along with ancient scenes re-created from early artifacts. But science is the backbone."

Brent Wittmeier Calgary Herald & Edmonton Journal

"Thompson not only directs, but guides us from in front of the camera: he's right there on screen, chasing the answers to the questions he's asking."

"Indescribable but brilliant. Part eye-popping nature program and part anthropology. Much is made of rare events and rituals – breath-hold divers in the Philippines and reindeer herders living in the Russian Arctic in minus 40 – but it's as much about knowledge as it is about spectacular footage."

"As dazzling as the footage is, what the film uncovers is even more striking. Proving that humans have become the dominant species on Earth in spite of millenniums of unstable climate conditions, The Great Human Odyssey provides a ray of environmental hope for the future. Thompson keeps the scientific subject matter light and energetic – ensuring the cinematography is nothing short of stunning and never allowing a chat with an archeologist to turn excessively cerebral."

Steve Gow Fast Forward Weekly
Directors of Cinematography
Daron Donahue & Aaron Munson
Senior Producers for CBC
Sue Dando & Caroline Underwood



Watch The Series
The series is streaming on CBC and available for download on iTunes. You can also find the DVD and soundtrack on Amazon for purchase.