Synopsis
Fast Horse is an intimate verité visit to a fascinating and little-known world: the dangerous and high-stakes game of Indian Relay.
In Blackfoot country, they call the Indian Relay "North America's original extreme sport". Jockeys bareback gallop their horses around a track, jumping off one and on to another in a chaotic melee of horses and handlers at "the exchange". Accidents happen. Just finishing a race demands masterful skill. And courage.
Siksika horseman Allison RedCrow dreams of bringing a team to the "greatest outdoor show on Earth" – the Calgary Stampede. This is how he and his people can show the world that their unparalleled skill on horseback remains intact.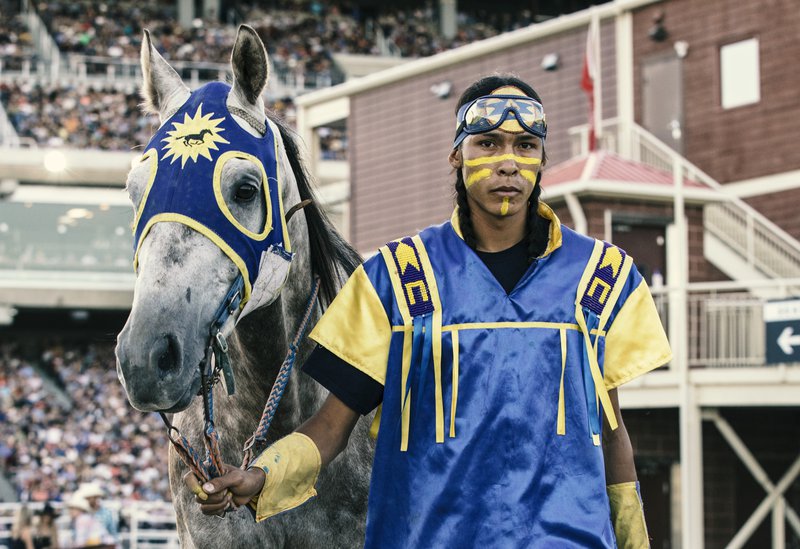 Our cameras follow Allison and his new jockey, Cody BigTobacco, over the course of a year, as they assemble a team of horses, train them for the relay race, and finally make their debut at the Calgary Stampede. Their team, Old Sun, will face the best riders in the Confederacy, many of them veteran competitors from Montana.
Fast Horse puts the audience on the back of a galloping horse, an exhilarating POV experience that captures the thrill and risk of this white-knuckle sport. But our cameras also capture in observational style the touching bond Cody and Allison have with their horses. We witness with intimate proximity the committed effort these majestic animals demand from their riders and handlers. We see the horses accept their role, and learn the complex movements of the race. And through this process, we come to understand and respect the skills of horsemanship still intact and passed down.
With a heart-pumping climax, we experience the final race at the Calgary Stampede from Cody's own perspective. And just as promised, we learn just how unpredictable and dangerous the Indian Relay can be.
After winning Best Documentary at its World Premiere at the 2018 ImagiNative Film Festival, Fast Horse went on to become of the breakout hits of the 2019 Sundance Film Festival, winning the Special Jury Award for Best Direction.
Starring
Old Sun Indian Relay Team, Allison RedCrow, Cody Big Tobacco, Mark Big Tobacco, Racey RedCrow
Cinematography By
aAron Munson, Daron Donahue, Sergio Olivares, Craigery Dennis
Stock Footage
Calgary Exhibition and Stampede Ltd.
Additional Music By
Blackfoot Crossing Singers, Radford Blackrider, James Blackrider, Herman Yellow Old Woman, Randy Doore, Layne Healy, Ardell Scout
Sound Recordists
Philip Dransfeld, Jamie Kidd, Alex Mitchell
Indian Relay Teams
Team Carlson, Lone Wolf, Star School
Special Thanks
Alison RedCrow & Family, Jerry Holdbrook, Jim and Carol Mason , Steve McDonough, Maggie Scofield, Carol Murray , Thyrone Powderface , Tyrone Potts, Okan Warriors, Travis Mcguire, Tyler Leather, Calgary Stampede, Siksika Nation
Produced With Assistance Of
Government of Alberta, Alberta Media Fund
Produced With Participation Of
Canadian Film or Video Production Tax Credit
CBC General Manger, Programming
CBC Executive Director Unscripted Content
CBC Senior Director, Documentary
CBC Director of Production, Unscripted Content


Watch The Film
The film is available for streaming on youtube. Distribution by Film Option International: +1 (514) 931-6180 ext. 2266, lizanne@filmoption.com