Our First Decade
Our shared history stretches back over the past decade, when Niobe left academic research to co-found Clearwater Documentary with veteran Canadian filmmaker Tom Radford. Since then, Niobe has produced 11 major broadcast and feature documentaries and two limited series, each one garnering international acclaim and large global audiences.
Our films bring to life episodes in the human journey, from our evolutionary origins to the complexity of our present, in documentary and dramatic form. Found variously behind and in front of the camera, Niobe combines the roles of producer, director and host, and is well known around the world for his engaging and accessible on-screen presence. He and his colleagues have developed a unique style of adventure and science storytelling the Globe & Mail calls "indescribable, but brilliant."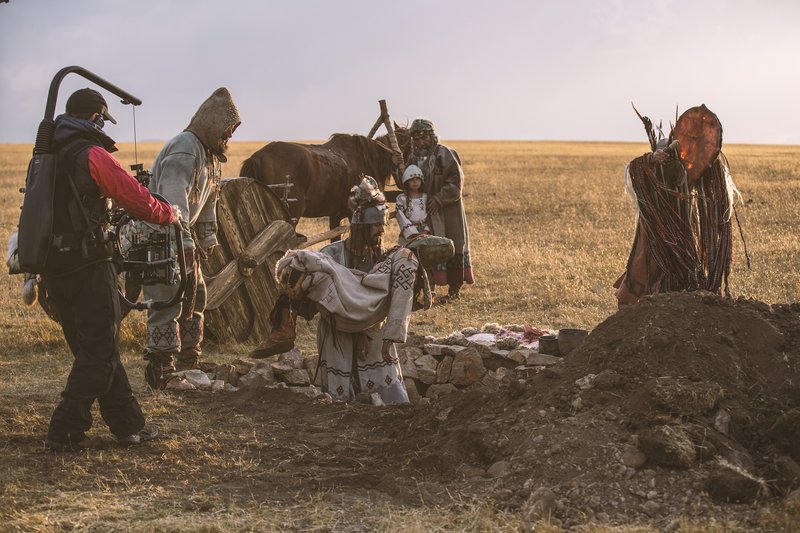 In 2015, the 3-part human exploration of our human origins – The Great Human Odyssey – broadcast on CBC's The Nature of Things and PBS NOVA, before reaching audiences in 52 countries. After winning Canadian Screen Awards for "Best Science and Nature Documentary" and "Best Original Music", as well an Emmy Nomination for "Outstanding Science and Technology", we launched Human Odyssey in feature form, as a live performance with symphony orchestras around North America.
In 2016, Niobe Thompson also collaborated with The National Film Board and ID:Productions to make a groundbreaking exploration of organ transplant medicine in two related films: Vital Bonds and Memento Mori. In these films, Niobe's crew was the first in history to capture the death of a patient and the decision by his family to donate his organs. The project was instrumental in the campaign to improve organ donation rates in Canada, won the Special Jury Prize at the 2018 Jackson Hole Science Media Awards, and was nominated for an Emmy.
In 2019, we brought three new projects to the screen. Equus – Story of the Horse took us back to the origins of our partnership with this fascinating creature, and on a global journey into the world of horses today. After premiering in Canada on CBC "The Nature of Things", this 3-part series aired in the USA on PBS "Nature" and "NOVA", and around the world on major public broadcasters.
Our short doc Fast Horse was chosen as part of the opening night program for the 2019 Sundance Film Festival and went on to win the Special Jury Award for Direction. Fast Horse explores the white-knuckle sport of Indian Relay, "North America's oldest extreme sport," through the eyes of the Blackfoot cowboy Allison Red Crow. Meanwhile, the 2019 Banff Mountain Film Festival World Tour screened both Fast Horse and our short doc Boy Nomad, which follows a 9-year-old Kazakh boy as he joins his father on his first winter migration through the Altai Mountains. In 2020, our short film The Long Today, a deeply personal exploration of a father and son relationship set on a gruelling wilderness canoe trip, was selected at Banff, Kendall, Vancouver, and many other adventure film festivals around the world.
"The scientific equivalent of a creation story for humankind. Indescribable, but brilliant. Part eye-popping nature program, part fascinating anthropology"
The Globe & Mail on The Great Human Odyssey
We have produced 8 one-offs and series for CBC "The Nature of Things". We often work with PBS NOVA and Nature, the Smithsonian Channel, the National Film Board of Canada, and various documentary strands on European public broadcasters, including DR, ZDF, ARTE, and France Télévisions. Our earlier films include The Perfect Runner (2012), Code Breakers (2011), Tipping Point: Age of the Oil Sands (2011), Inuit Odyssey (2009).
"An exhaustive scientific quest through 11 countries, backed by gorgeous footage and narrative magnificence… epic!"
Edmonton Journal on Equus - Story of the Horse
In 2020, we joined with Australia's Emmy-winning Genepool Productions to co-produce an ambitious feature documentary called Carbon – The Unauthorized Biography. The first project to be commissioned under CBC and ABC's joint coproduction initiative, this creatively unorthodox take on life's core element will be distributed theatrically and on major broadcasters around the world beginning in March 2022.
With composer and conductor Darren Fung, Niobe presents select documentaries as live performances with symphony orchestras. Great Human Odyssey in Concert has been touring in North America, and Equus In Concert will debut in April 2022.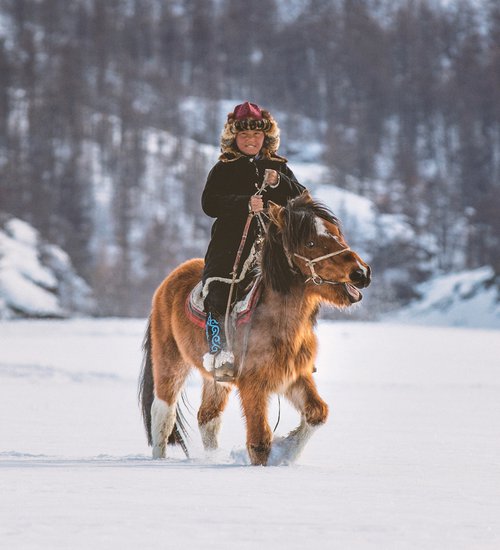 Stock Footage
Contact us directly for license enquiries at info@handfuloffilms.ca